Inland Northwest Spine adds new robotic microscope
Modus V said to ease surgeries, allow student viewing of operations.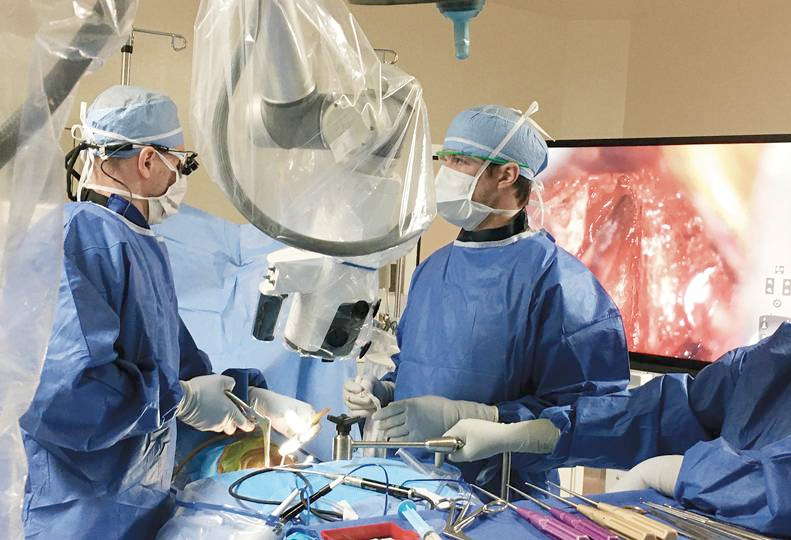 Virginia Thomas – July 2nd, 2020 – The Spokesman Business Journal
Inland Northwest Spine & Neurosurgery PLLC, of Coeur d'Alene, has a new piece of operating room equipment that orthopedic surgeon Dr. Douglas Blaty says is a vast improvement over previous tools.
The Modus V digital microscope, produced by Toronto-based Synaptive Medical, is hands-free and robotically controlled. Its robotic arm moves automatically based on the position of surgical instruments that are wirelessly tethered to the system. The microscope can be linked to a monitor so that the surgical field is displayed on a screen, which means surgeons don't have to peer through eyepieces, and others in the operating room can see what the surgeon is doing.
Blaty says he uses it for decompressions during surgery. A decompression involves accessing the spinal cord and nerves through the bony parts of the spine in order to relieve pressure on the nerves.
"At this point, I'm using it for almost any surgery where I'm doing a decompression, which is probably 70% or 80% of my surgeries," Blaty says. "It's probably one of the most important things in my operating room."
Blaty says he's used the Modus V in about 60 surgeries since the microscope arrived late last fall.
Because the Modus V is adjustable, it could increase the longevity of his surgical career, he claims.
With traditional tools such as a loupe magnifying glass or a surgical microscope, the surgeon often has to bend over to see the surgical field clearly, Blaty says.
"The Modus V allows me to have my body in different positions. It allows me to stand upright in a comfortable position," he says. "There are lots of studies that have shown that surgeons looking down can cause neck arthritis, to the point where they may need surgery at some point in their career. That may either delay their career or end their career, depending on where they're at."
The microscope also can be raised as far as three feet from the surgical wound, which Blaty says makes it easier for surgeons to see exactly what they're doing.
The Modus V is comparable in price to a surgical microscope, Blaty says. The base model starts at about $400,000.
He first encountered the Modus V while in orthopedic surgical residency training in Seattle.
"Ever since I saw it, I was like, how can I use this in spine surgery?" Blaty says.
He claims he's one of a handful of surgeons in the Pacific Northwest who are using the Modus V for spine surgery. Most surgeons who use the microscope do so in brain surgery, he says.
"Not a lot of spine surgeons are using it, and I really don't know why," Blaty says.
The Modus V is useful to the rest of the staff in an operating room, he says.
"Because the surgery is projected on a big, 55-inch, high-definition screen, everybody in the room is learning what you're actually doing," Blaty says. "I've found doing surgeries with loupes or microscopes, no one in the room really knows what you're doing … when I use this, everybody sees exactly what I'm doing."
Blaty says the educational aspects of the Modus V could be valuable to both private practices and to medical schools.
"You could have residents, medical students, nursing students, and physical therapy students seeing exactly what's going on and learning," he says.